So there is a queer film festival in Canberra and NSW starting soon called shOUT.  I'm all for film festivals, particularly queer ones that show the entire LGBTIQ community as fully realised people who live interesting, dull, full, empty, happy, sad, sexy, and unfulfilled lives.  Because unsurprisingly we're just like everyone else, we however are a small percentage of the population that has same sex attraction, or who doesn't fit in with the gender binary, or with the gender that they were born with, or whose gender was undetermined at birth.
And then I saw this poster: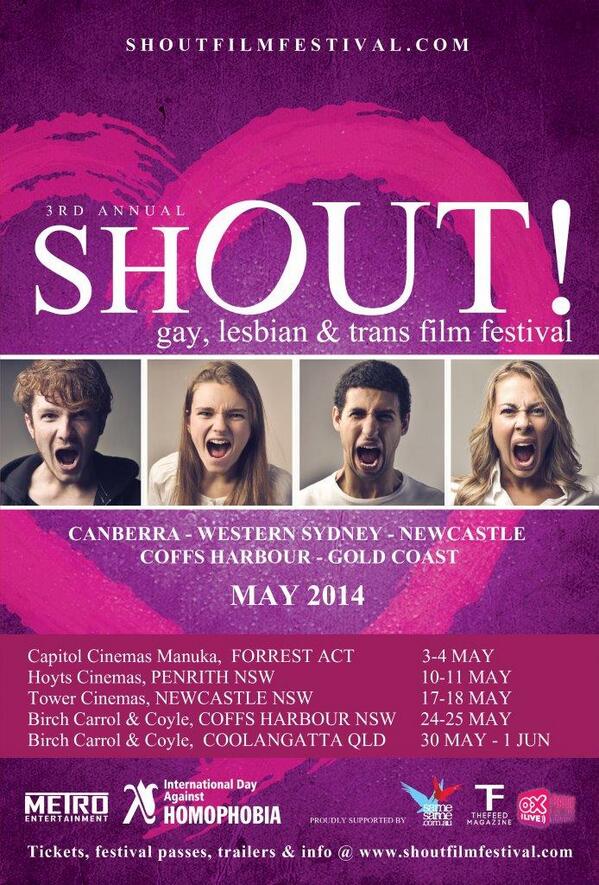 Where are the bisexuals I asked?  Sadly, I wasn't convinced that leaving out bisexuals on the poster was entirely an accident, though it would be hard to argue that they didn't have the space to fit it in, because as a queer film festival, and one that had used the #LGBT hashtag, they clearly knew that bisexuals exist, and yet made a conscious choice to not include us.
And while writing this post, shOUT confirms in a tweet to me that they left off bisexuals in the poster because homophobia allegedly includes biphobia (I get a tad annoyed/sweary in the exchange).   And then they sent me an email after I used their "Contact us" form to ask them WTF:
We fully recognise bisexuality and do use the term "LGBT" where possible. However, we have chosen not to recognise "biphobia" or bisexuality in our communications as we believe (as does IDAHOT) that biphobia is inherently included under homophobia – as the phobic responses exhibited by persons toward those whom are bisexual are not in response to the heterosexual relationships those people maintain, but the same-sex (homosexual) relationships they maintain.

We do not intend to cause offense and we certainly do not mean to exclude. The festival is actually aimed at the heterosexual community as well as the LGBTQI community and therefore we need to find a midpoint in the language we use to communicate with both communities. We in no way mean to marginalise or sideline any sexuality or gender however the inclusion of bisexual would also require that we include intersex, queer/questioning, asexual and pansexual which are also part of the community acronym… and its very hard to have any artwork or communications that is headed by

"The 3rd Annual shOUT! Gay, Lesbian , Bisexual, Transgender, Intersex, Queer, Questioning, Asexual, Pansexual Film Festival"
"…chosen to not recognise "biphobia" or bisexuality"
Just let that sink in for a moment.  An organisation that is hosting a queer film festival, one that allegedly represents the entire QUILTBAG community, chose to not recognise bisexuality or biphobia because marketing and well bisexuals only face homophobia, not biphobia from within our own community.
Now I completely disagree with IDAHOT that biphobia is under the umbrella of homophobia, and any inclusive organisation would also.  Biphobia is a completely separate and distinct phobia from homophobia, and one that bisexuals face from within the LGBTIQ (mostly LG) community, as well as from the wider straight community.  From the UK Bisexuality Report:
Homophobia, heterosexiam and heteronormativity

When tackling biphobia it is important to remember that, like lesbians, gay men, and anybody else who identifies as outside of heterosexuality, bisexual people are also subject to homophobia, heterosexism and heteronormativity. Heterosexual people can also be subject to homophobia and biphobia in cases where their sexuality is misread.

Homophobia consists of negative attitudes towards those with 'same-gender' attractions and relationships, expressed as anger, disgust, fear, or other negative emotions. It includes hate crimes, workplace discrimination, the use of the word 'gay' as an insult, and the perpetuation of negative stereotypes of LGB people. Institutionalised homophobia is where whole structures, organisations or societies are homophobic.
…
Bisexual people may also be more likely than heterosexual people to be subject to transphobia and cisgenderism (attacking or discriminating against those who transgress the perceived gender binaries, or making assumptions about how men and women should appear or behave). This is because bisexuality, in itself, is seen by some as a gender transgression, in that it is not conforming to conventions of femininity (for women) and masculinity (for men) which involve being attracted to 'the other gender'. In addition (and more so than lesbian and gay sexuality) attraction to more than one gender can be seen as challenging the gender binary for those bisexual people who do not distinguish people on the basis of gender.

Biphobia

Biphobia refers to negative attitudes, behaviours and structures specifically directed towards anyone who is attracted to more than one gender. Biphobia is perpetuated in common representations of bisexual people (see above) and attitudes towards bisexual people are often found to be even more negative than those towards other minority groups. A related idea is 'monosexual privilege' which refers to the privilege experienced by all those whose (stated) attraction is to only one gender.

Bisexual invisibility

Referring to 'homophobia' rather than 'homophobia and biphobia' when speaking of negative attitudes, behaviours and structures in relation to LGB people.

Bisexual exclusion

Claiming to speak for LGB, or LGBT people, and then failing to include 'B' in the name or mission statement of a group, neglecting bisexual-specific issues, and/or dropping the 'B' within materials.

Bisexual marginalisation

Prioritising lesbian and/or gay issues over bisexual issues.
Failing to engage with bisexual individuals or groups in relation to policy and practice.

…

Double discrimination

Another issue specific to biphobia is double discrimination: the fact that bisexual people can be discriminated against both by heterosexuals and by lesbian and gay people. Both groups can be suspicious of bisexual partners (fearing that they will be left for someone of the 'other gender') and assume that bisexual people will be a threat to their relationships. Some lesbian and gay people may also feel threatened if they have any 'other gender' attraction themselves and are faced with the tough prospect of a second 'coming out' if they were to identify as bisexual. Also, some people can feel that the existence of bisexuality 'muddies the water' in a way which calls into question the basis on which they have fought for their rights.

It can be particularly difficult for bisexual people when they are excluded from, or rejected by, lesbian and gay individuals or groups where they had expected to find safety and community. Common historical examples of such exclusions include having to fight to be allowed to take part in pride marches, being relegated to the back of such marches, and having no bisexual people on the stage alongside the lesbian, gay and trans people there. Some gay clubs and services have also had gay-only door policies meaning that bisexual people have been forced to lie if they want to participate. … the legacy remains among bisexual people accessing services today, and there is still fear among UK bisexual people that they will be rejected if they attempt to engage with LGBT groups.
From where I'm sitting, shOUT's refusal to recognise bisexuality and biphobia is looking very biphobic.
Let's take a look at the rest of their website.  Firstly I think it's great that they've included trans* people in their marketing material, however they do completely bollocks that up in the first paragraph on their home page though:
shOUT it OUT! The shOUT Gay & Lesbian Film Festival is returning for its 3rd year in 2014. A whole month of the best queer cinema from around the world to make you cry, cackle and cringe.
Yes, I'm cringing already, because we've gone from LGT to LG – and that's a bad and worrying sign.
Their IDAHO page fares a little better, it mentions both trans*phobia and intersexphobia – something their email suggested that they'd not include… so I'm confused.
The aim of the shOUT film festival is to create awareness that, although rights for Gay, Lesbian, Bisexual, Transgender, Queer and Intersex (LGBTQI) individuals has progressed substantially in Australia, many peoples attitudes have not changed – leading to homophobia, transphobia and intersex-phobia in workplaces, schools, public and even at home.
shOUT made a conscious decision to not include bisexuals, because then they'd have to include other groups, and instead of using an umbrella term such as "queer" they decided that excluding potentially the largest group of the LGBTIQ community, because it was convenient.
I'm not in Canberra or  NSW, so I can't not attend this event in order to demonstrate my displeasure at their response to me regarding bisexuality and biphobia.  However, with my Bi-Alliance President hat on, I will be approaching the committee and asking what we're going to do about this.  I strongly encourage you to write to shOUT and ask WTF regarding their policy of choosing not to recognise bisexuals and biphobia, particularly if you live in NSW and had been planning to attend.
Related Posts: